Seed cycling is a naturopathic remedy that is claimed to balance hormones by regulating the hormone estrogen in the first half of your menstrual cycle and the hormone progesterone in the second half.
Its purported health benefits include helping regulate periods, reducing acne, treating polycystic ovarian syndrome (PCOS), endometriosis, and infertility, and easing symptoms of menopause, such as hot flashes, night sweats, fatigue, and mood swings.
Seed cycling involves eating flax, pumpkin, sesame, and sunflower seeds at different times of your menstrual cycle. The practice is claimed to balance certain hormones, boost fertility, and ease symptoms of menopause, among other benefits. It also helps boost feminineness (niswani husn).
Apart from the benefits above, eating seeds is still a great way to improve the quality of your diet and overall health.
PCOS seed cycling package contains the following seeds:
250gm pumpkin seeds (peeled)
250gm sunflower seeds (peeled)
250gm Flaxseeds (powdered)
250gm White Sesame Seeds
FAQs
How to use the PCOS seed cycling package?
Seeds can be consumed in slightly warm water or added to yogurt, porridge, smoothies, and salads.
Period Day1-14:  Use Pumpkin seeds and Flax seeds 1 tablespoon each preferably in the morning with breakfast.
Day15-28: Use Sesame and Sunflower seeds 1 tablespoon each with breakfast
Repeat the cycle. Don't try to align with periods. Once you start seed cycling, continue the two-week cycle irrespective of period dates.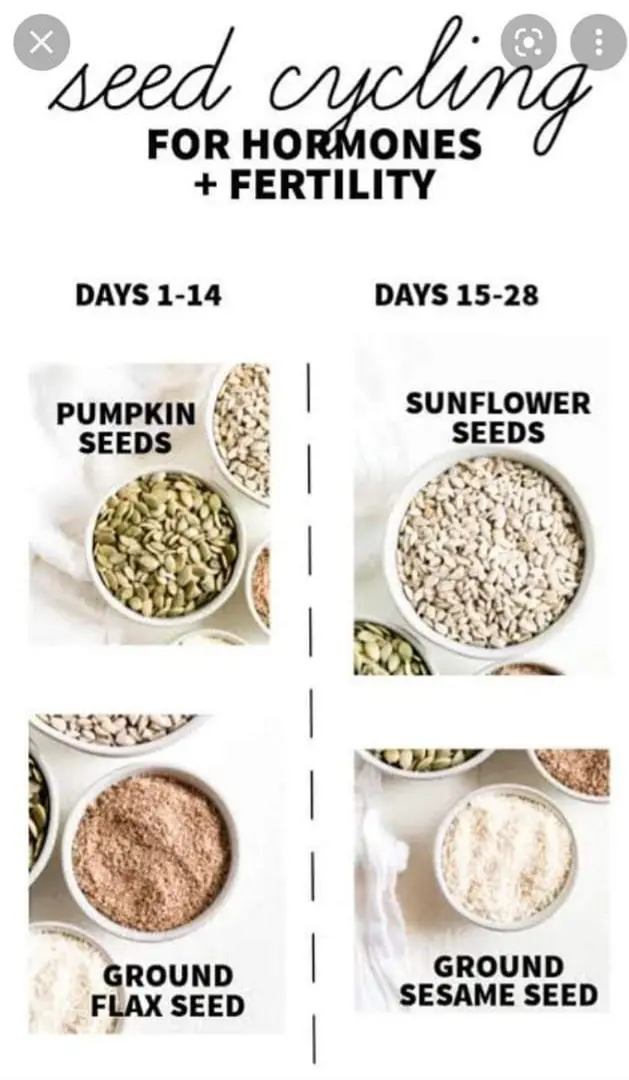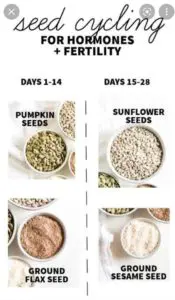 How long do we need to use it?
It takes a while to obtain the full benefits of seed cycling. Use it for at least 3 months and gradually you will see improvement in symptoms and carry on using it until you get the desired results.
Should I consult a doctor?
We recommend keeping your doctor in the loop. However, these are natural products that are beneficial for health in general.
How do I see results?
You will most likely see improvement in your symptoms. In order to get proper results, consult your doctor and arrange blood results/ultrasounds before and after using these seeds.
Does this seed package come in one pack?
No, we send you 4 packs of 250g each. Flaxseed is already in powder form (sunflower, pumpkin and sesame) in the original. But they are very easy to ground at home.
Are pumpkin and sunflower seeds peeled?
Yes, they are peeled and ready to consume.
Who should not use this?
People who have high blood pressure or pregnant women
Review
Please check out more reviews under the Review section